With the proliferation of AirBnBs around the world you might ask is an AirBnB is profitable and worth the hassle? What is involved in owning and running an AirBnB and does it bring in a good income?
I put the question to friends of mine (they have two different AirBnBs) and the answer was a resounding "Yes" but …
Of course there was a "but", which I found enlightening and decided it could make for an interesting read.
The "BUTS" follow …
---
Turn An Existing Asset Into a Money Spinner
And why not?
If the kids have flown the coop and you have a spare room or two it's a great idea to turn an existing asset into a money spinner.
Or if there are no kids yet but a big mortgage and a spare room or two then utilising one to help pay that mortgage is an excellent idea – at least I think it is.
Of course, you could also consider taking on a more permanent boarder/flatmate and have a steady income, but for now let's say you don't want someone living in your house permanently but would consider having an AirBnb where you get to decide when you are open to visitors.
---
Cost of Setting Up – how much will it take?
This is pretty much a personal decision and to determine how much needs to be spent to get your BnB up to the required standard consider your target market.
What sort of clients do you want coming into your house (probably your largest asset) and what are they expecting in return?
My first point of reference if I was setting up an AirBnB would be to scout out the other BnBs in my area and see what they offer and who they are attracting plus what they are charging.
Stay at one to experience what your client's will experience and to get ideas on what is needed.
Each BnB will be different but you will definitely need a good bed and clean sets of linen for each season.
Will a double bed be best or two singles that can be pushed together?
The latest TV and a full range of channels – this may mean signing up to a satellite service such as SKY – it's all tax deductible.
Their own private bathroom. Again with fresh absorbent towels and accompanying finishing touches all dependent on your intended market of course.
A couch or chairs, table and chairs?
There is no right or wrong answer to any of these questions – it's entirely up to you what you feel is appropriate and the trouble and expense you are prepared to go to.
---

Cost Of Running – cleaning, servicing, maintenance etc.
Every time customers check-out the room needs to be thoroughly serviced.
Will you be doing this yourself or paying someone else to do it?
In the former the investment is your time and energy while the latter is dollars out of your profit – your choice.
You could reduce costs by implementing a minimum stay – say 3 nights or 4 nights.
One four night stay is one service whereas four stays of one night each will require 4 room services to be undertaken and hence take a larger slice of your profit.
Maintenance is an important issue and any maintenance should be undertaken immediately – you don't want unhappy customers.
Your customers are your best form of advertising and your worst nightmare if they start demanding refunds for faulty appliances, uncomfortable beds, lack of hot water etc. you're going to be leaking money.
And they will probably return nor will they be recommending your BnB to anyone in the near future.
Remember prevention is better than cure – carry out preventative maintenance more often than might be thought necessary.
---
Local Bye Laws and Safety Issues – to comply or not to comply?
Ay – there's the rub!
Of course the local council will want to get involved and take their slice of the cake! Annoying as it may seem there are some good reasons for this.
Besides grabbing some of your money under the guise of taxes the council wants to know what you're up to and that you comply with the city's bye-laws.
There are safety issues to consider, infrastructure support, the type of business you are running and if it is compliant etc
Speaking to my friends they mentioned that a BnB can include cooking facilities and these can (and are) a fire hazard. Your local council will inspect your property and insists on proper ventilation, a firewall between rooms and other safety measures.
Complying with local bye-laws will make your insurers happy too and will not only validate any claims but also possibly reduce your premiums.
A non-complying BnB could result in insurance claims, especially in relation to a fire started by a non-compliant kitchen, being rejected and that could be a very expensive outcome.
And that is to say nothing about your customers and your own safety.
Knowledgeable customers may even insist of staying in a registered and compliant establishment as it provides a certain level of security about the standard of the place.
Being compliant is therefore a benefit when it comes to attracting customers.
My advice is to check what your bye-laws are and comply with them.
Non-compliance may be a cheap solution that could be very expensive in the long term.
---
Getting Customers – AKA Marketing Your Exclusive Air BnB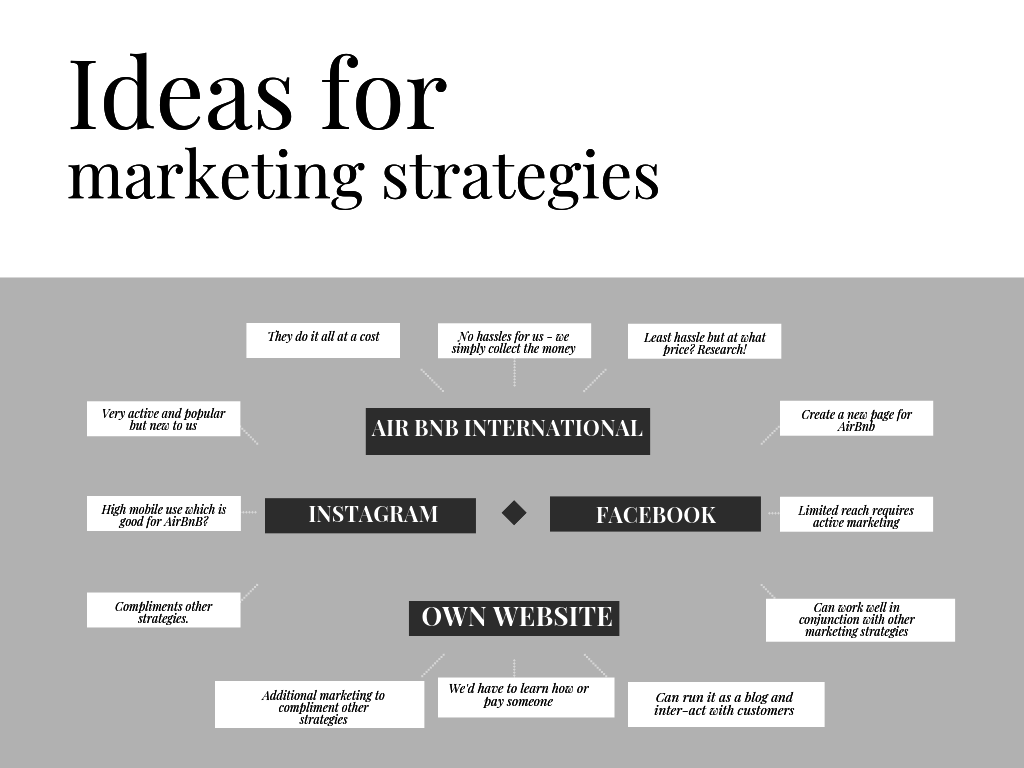 Heads on pillows – is what it is all about. It doesn't matter how well you have equipped your BnB or how wonderful it is if you don't have customers.
It would seem that the best place to get the word out is through the AirBnB international website
You can register your business with them and they will do most of the rest. Of course, you will need to supply photos and a write-up/description for potential customers to learn more about your BnB and why they should book it. Make this as descriptive as possible and create a unique point of difference which will entice people to want to stay at yours.
The BnB website will help you with all the information you need.
They can help you with:
Pricing – what your competition is charging for similar accommodation, what you should price to attract more stays.
Seasons – most popular for your area and price accordingly
What photos people like to see. Women want to see the kitchen and bathrooms while the men want to know how close the nearest boat launch or golf course is, and they will want photos of them. Talking of photos be sure to get great shots. A picture says a thousand words after all.
And a bunch of other stuff that you may need to know.
They also take the bookings and collect the money on your behalf – all bookings are paid in full in advance. This is a huge plus in my opinion.
The fee for this service is a percentage – as little as 3% for each booking or if you prefer, I understand, you can pay a monthly or annual fee and no percentage. Talk to them to see what deal best suits your requirements. They're there to help you.
You can hand it over to them and sit back and relax as the bookings start rolling in – but should you?
---
Every Bit of Extra Income Helps – right?
Clearly you are doing this for a bit of extra income – you already told me that and you are still reading so …
Why not be a little more proactive and promote your own BnB?
There are a million ways to do this:
Word of mouth – slow but effective
Social media – FaceBook, Twitter, Instagram, YouTube, LinkedIn etc. Fast and far-reaching. But you do need a following and it does take time to post regularly.
Local media – radio and press adverts. This is a bit old-fashioned and can be expensive.
Create your own blog or website – much easier than you might think and if done correctly extremely effective and inexpensive. Plus a website or blog ties in very well with social media. You can learn all you need to know to do this very successfully at Wealthy Affiliate University.
This link will take you to a personal review of Wealthy Affiliate University which, while dedicated to training affiliate marketers, teaches you how to buid website to market your own business, promote other products and a host of other methods to make money online with a website being central to all of them.
It costs you nothing to take a look and will provide you with yet another way to promote your AirBnB and many other potential ways to make some extra money.
Referrals – get your client's to give you feedback and use their reviews as marketing material on your blog, FaceBook page, Instagram or any other marketing methods you adopt. Real user's opinions carry a lot of weight when people are looking for recommendations.


---
Weighing It All Up …
Is an AirBnB profitable (and worth the hassle?
If your business plan is well worked out and your BnB run accordingly – that is to say at the right price and the required occupancy, then YES a BnB can be very profitable.
Is it worth the hassle?
Like any business you have to work at it. It requires furnishings and maintenance. Each time customers check-in the room will need to meet or exceed their expectations. Their stay needs to be as pleasant as possible and for this you may need to be available at all times in case of an emergency, big or small.
Every time a customer checks out the room needs to be freshened up with new linen, a vacuum and dust down. New soap, fresh toilet rolls, all lights working etc.
In the end it is entirely up to you to decide if the work load is worth the return – I certainly think it is and my friends concur.
Let me know what you think and in particular what bye-laws apply to your part of the world.