Because the Internet plays such a huge part in today's business and personal world there are literally hundreds of thousands of online marketing business opportunities in South Africa (and the rest of the world). The world is, after all, a small village!
As the influence of the Internet on our lives continues to grow exponentially – let's see how we can take advantage of the Internet to create a business opportunity second to none.
In this post I am going to write about one specific online business opportunity that can lead to a variety of passive income streams. A business opportunity that few people know about yet an opportunity that is making hundreds of thousands of people financially successful by creating successful online businesses.
Who wouldn't want a passive income?
The Bad News.
It will require hard work (initially), dedication, perseverance and belief in yourself to attain success.
The Good News.
Anyone can do it – no previous experience is needed.
---
"Bye-Bye Rands (and hyper-inflation), Hello Dollars!"
Have you ever considered earning a hard currency – US Dollars, Pounds Sterling or Euros?
When I moved to New Zealand in January 1999 three Rand bought us one New Zealand Dollar and we were horrified. Effectively losing 2/3 of the value of your assets is a hard pill to swallow.
Today (20 years later) you will need just under ten Rand to buy one New Zealand dollar and fifteen Rand to buy one US Dollar!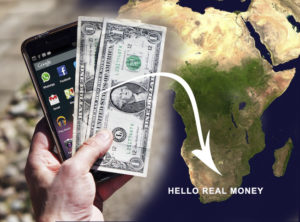 As I watch from a distance I see many parallels between what happened with the Zimbabwean currency and what is happening to the South African Rand today.
Money in both countries has become "cheap".
One wonders where the Rand will be in another 20 years time – and don't kid yourself that 20 years is a long way off, its only 240 paydays hence.
Will a New Zealand dollar cost you forty Rand or even more?
Imagine earning a currency that not only hedges you against the South African Rand depreciating but also allows you to take advantage of the depreciating currency. As the Rand depreciates the hard currency you will be earning bring in more Rands for you – a total reversal of the current situation.
Internet Affiliate Marketing will do exactly that for you.
I'll get to the ins-and-outs of it shortly but let me first mention that you can get started today with no financial outlay. All you need is a computer and an Internet connection – the rest is already out there waiting for you to come on board and get started.
---
No Limit of Products to Sell
Maybe I should have entitled this paragraph "No limit of opportunities" – because that really is what we are talking about.
However, at the end of the day for you to make a living someone has to part with money!
Whether we like it or not our entire life is based around sales – it can be for a service, knowledge or a physical product.
The good news is you do not need to create any of these to get started – there are literally millions of products out there that you can start promoting today and earning a living from.
For the moment put any concerns you may have about what to promote to one side.
I'm going to show you how you can make a very good living by promoting the things you are already interested in, have experience in or are passionate about.
This can be anything from a sport, a problem, a hobby or a passion – and your business NEVER closes.  It is open WORLD-WIDE 24/7!
---
No BEE or Headaches Associated With Traditional Businesses
Owning a traditional business of any kind comes with a variety of headaches, legal requirements, staff issues, contracts, supply and demand, budgets, tax requirements, leases, capital outlay, interest bearing loans and all the rest.
In South Africa you have all of those plus more of which the most restrictive is probably the Black Economic Empowerment Act.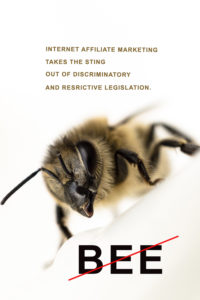 I'm not going to get into politics except to say that any law that is based on selecting people based on race, rather than an ability to do a specific task, is not going to benefit anyone.
Quite possibly the BEE and the inefficient manner in which many South African businesses, particularly state owned enterprises, have been run may be the reason the Rand has devalued as much as it has.
Internet Affiliate Marketing has none of the headaches associated with traditional businesses and is the simplest business structure I have encountered in my 64 years on this planet.
You can get started today – with no money, no contracts to sign, no lease agreement, no product, no experience and absolutely no risk!
Usually when something sounds too good to be true – it is but in this case there is only one negative.
This is not a get-rich-quick-scheme and it will take some time before you start to earn an income.
If you are after a fast-buck this business opportunity is not for you – try lotto.
But if you want a long term sustainable business and are prepared to put in the work then you will definitely be interested in learning more about the internet affiliate marketing opportunity.
---
Okay So How Does It Work … (and how do you get involved)?
What you may not know is that today's online merchants are a savvy bunch and have cottoned on to the fact that they can have a sales force of thousands or even millions of salespeople without having to employ a single one of them.
They do this by introducing what is known as an affiliate program.
An affiliate program allows anyone, situated anywhere in the world, to register to sell their products on their, the company's behalf.
You can find out if a company has an affiliate program by writing to them or, in most cases, scroll down to the very bottom of their home page and look for a link that says "Affiliate Program/Become an Affiliate" or something along these lines.
Here is a screen shot of the bottom of Amazon's home page with the affiliate link – the 5th link down in the "Make Money With Us" column.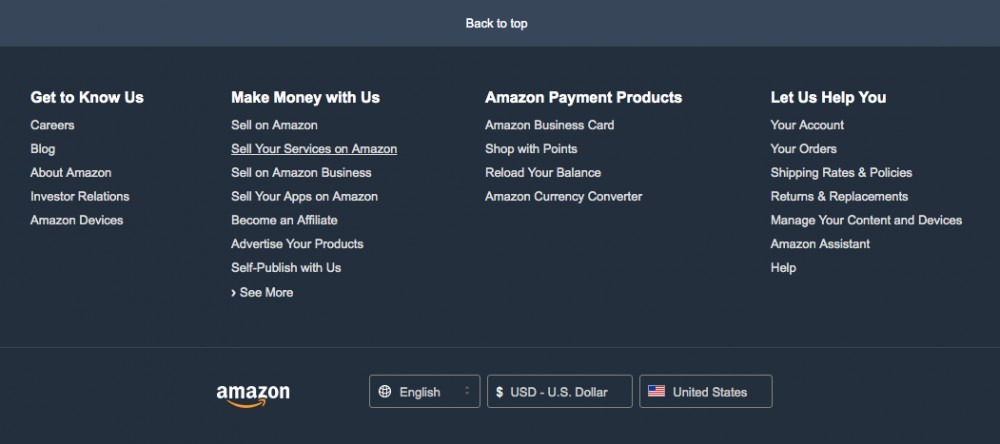 Amazon is the largest online retailer in the world and has over 5.5 million products that we can promote.  You can make a very comfortable living from only selling Amazon products – and many people do.
Once registered the newly "appointed" affiliate can then go ahead and promote that company's products. This is done primarily through a website but can be done on social media (FaceBook, Instagram etc.) or e-mail marketing.
The point is anyone, anywhere, can do this – you are not restricted by living in any particular country.
---
Start thinking globally!
To give you an example – let's say you are a sports fanatic and want to promote your favourite sport and a bunch of popular products relating to that sport.
You can now do exactly that by finding an affiliate program that promotes these products – I'll show you how to find these affiliate programs for your specific interest (niche).
Another example: Let's say you are a cat lover and just want to talk cats all day. There are thousands of affiliate programs that promote cat toys, cures, blankets, scratch pads, holidays (yes cat holidays) and anything else that cat lovers buy their pets.
By getting immersed in a topic you love and are passionate about you can start earning a very lucrative income. Can you think of anything better?
There are of course a lot of things to take into consideration if you want to be successful.  Internet Affiliate Marketing is a lot very different to running a traditional business and probably more competitive.
Using the sports example again – taking an individual sport such as golf, tennis, rugby, netball etc. would be far too general a niche. You will need to drill down and refine your sport into a sub-niche or an individual product in order to compete successfully.
The more defined your niche the greater your chances of success.
Yes you may have a smaller market in a defined niche but on the other hand your laser-targeted marketing will have a much higher rate of return.
I'll show you how to do all this but let's move on to what you will need.
---
What You Will Need … you already have the expensive stuff
Internet affiliate marketing requires you to have:
A computer – you've got one right?
An Internet connection – you have this too if you're reading this.
A niche (target market) – anything you like, this is 100% your choice and you DO NOT have to decide this now! If you decide you want to try something else later that is fine.
A domain name – if possible including a word related to your niche – but not absolutely necessary.
Be prepared to spend US$14.00 per year on purchasing and securing your domain name.
A website – you will use your newly selected domain name to create this.
And yes don't worry I'll show you just how easy building a website really is.
A hosting company – to host the domain.
Prices differ from hosting company to hosting company and can vary substantially.
Don't go rushing into anything yet because I will show you the best place to do this when you are ready. Until then you can host your website for free.
Again I'll show you where and how.
A determination to succeed – this is not a get-rich-quick scheme and will require you to do some serious work. I cannot stress this enough.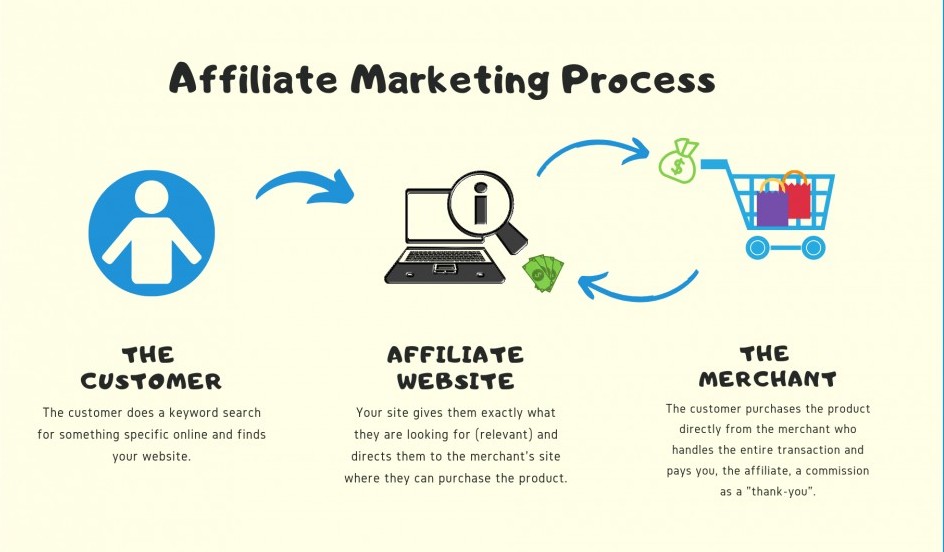 OK let's move on to the reasons people fail.
---
The 5 Main Reasons People Fail at Internet Affiliate Marketing
There are five common reasons people fail at this business and I want to point these out to you in advance so you can avoid them.
Reason #1 – Insufficient or Inadequate Training.
I have painted a pretty simple picture of Internet Affiliate Marketing and to be honest it is a simple process.
You only need to learn the process and follow it without deviating – resist the temptation to get side-tracked by so-called Gurus, who promise you a shortcut to fast riches with zero effort.
DO NOT go chasing every lucrative offer that appears in your e-mail or on your FaceBook feed.
If you do you will lose focus, time and MONEY!
Trust me I have been there.
---
Reason #2 – Unrealistic Expectation of Quick Results.
Those with unrealistic expectations of quick results are the very people the Gurus target to sell their shiny objects to.
Let's be serious for a minute and ask if you would prefer to buy a product that will give you a return in a week with zero effort, or a product that says you have to work your butt off for 3 to 6 months before making your first dollar?
Naturally the scheme that promises you a return in one week sounds much more attractive; and people fall for it.
But they seldom, if ever receive, what they were promised.
Look up "Work From Home SA" on FaceBook to see what I mean by get-rich-quick schemes which are unsustainable.
People are often desperate (or lazy) and these types of offers are exactly what they are looking for.
It takes them several schemes, and a few thousand Rands later, before they realise there is no easy money.
I'm not saying all these schemes are crap but the vast majority of them are.
Internet affiliate marketing is different in that you have to put in a considerable amount of work before you get any return, but once it happens it is virtually unstoppable.
Let me explain why.
For you to sell a product off your website people have to first be aware of the website – that means they have to see it and read it.
For people to see it the website needs to feature high (preferably on  page 1) of search results.
Have you ever done a search (for anything) and noticed that there are millions of results but only the first 10 show up on page 1?
Do you ever go beyond page 2 and on to page 3 or further?
Of course you don't.
To be seen your website needs to appear on page 1.
Understanding why it takes so long and how you can get there is what you need to learn and diligently work towards.Here are some of the reasons why this is.
It has been calculated that 380 new websites are created each minute – 5,472,000 per day!
All are aiming to be in position #1 on page 1 of Google searches.
BUT …
90% of all Internet start-up businesses fail within the first 120 days.
Based on this Google is highly unlikely to trust your site until it sees you are in the business to stay.
In other words the older the site the more clout it carries in Google's eyes.
And that makes perfectly good sense as Google wants to ensure it is referring it's customer base to a reliable source.
Be prepared to hang in there and persevere, plugging away for quite a while before you start seeing results.
How long is "quite a while"?
This depends entirely on how many hours you can put in to establishing your business.
If you have a full time job you may only be able to do a couple of hours a week whereas someone like me can can devote a lot more time to it.
The more time you can devote to building your business the faster success will come.
---
Reason #3 – Quitting When Success is Just Around the Corner.
Time and time again I have seen people work away at a niche only to change to another niche after a month or two, because the first niche is "not working".
This is inevitably a mistake because every niche has huge potential.
Starting a new niche means you have to begin from scratch again. The work you have put in on the older niche now becomes dormant and worthless!
Persevere and success is probably around the next corner.
Just last week I suddenly discovered sales on one of my older websites, that had not previously produced any sales.
Six welcome, but unexpected, sales. Needless to say I am now back on that site working frantically on getting the rankings even higher.
It has often been said:
"You cannot fail in this business, you can only quit!"
Those that push through the slow times are those that ultimately succeed.
---
Reason #4 – Not laying a solid foundation.
It is very common for people to get excited about a niche (usually a very competitive/broad one), buy the domain name and pay for hosting and then get started, only to find they are competing against internet giants with well-established sites.
Slow down, breathe and do your research.
Domain names are always available – even though they may not be the exact one you wanted.
Spend a considerable amount of time researching your market, understanding what their problems are, what they buy, the language they talk and how you can help them.
In other words build a solid foundation of knowledge before jumping in feet first and you will have a much better chance of succeeding sooner.
---
Reason #5 – Procrastination.
This is the original procrastinator talking.
When you have been working diligently with no reward things can get very disheartening indeed.
In these situations washing the car, cooking a meal, visiting an old friend, answering e-mails, checking FaceBook and a million other things are so much more attractive than sitting down and pushing on with what you know has to be done to achieve success.
I've been there and got several tee shirts to prove it.
You know you have to do the work at some point so do it now!
The sooner the better.
Once done … then you can wash the car or vacuum the house.
If you've read this far then I guess you're ready for the BIG REVEAL …
---
Take A Free Guided Tour
The best place on the planet to learn about Internet Affiliate Marketing is Wealthy Affiliate University.
What's more you can try it all out for free – no credit card required.
Before you do that though you may want to learn more about everything they have to offer?
If so, read my full and extensive Wealthy Affiliate Review.
But if you think you have what it takes (after all the effort I have gone into telling you that you need to put in some serious time and effort) well then …

Once there you will get to talk to others and discover hundreds of online marketing opportunities as you learn the skills required for success – be sure to read the amazing success posts.
I would love to be around when you earn your first foreign currency – the smile on your face will be priceless!
I am sure you have a whole bunch of questions and would welcome them in the comments below – I promise to reply promptly so fire away.